Mesmerizing Compounds: Perfumers Create Extraordinary Scents at Exorbitant Prices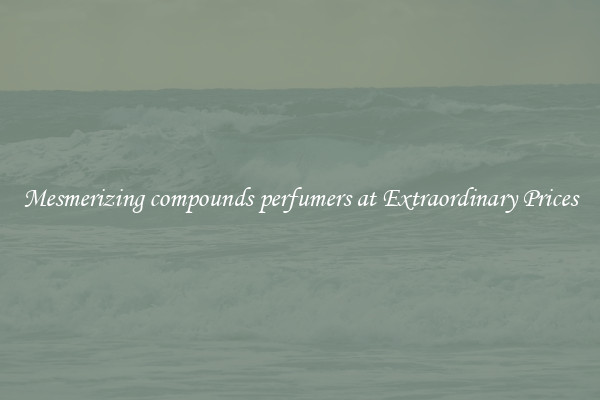 Perfume is a complex blend of aromatic compounds, essential oils, and other ingredients that captivate our senses. Perfumers, the highly skilled individuals behind these luxurious scents, are always on the quest for unique and mesmerizing compounds that leave a lasting impression. In their pursuit of artistic excellence, these perfumers have created extraordinary fragrances, often accompanied by extraordinary price tags.
One such compound that has entranced perfumers and fragrance enthusiasts alike is oud. Derived from the agarwood tree found in Southeast Asia, oud has a rich and distinctive aroma that is intense, alluring, and unforgettable. This precious ingredient is scarce and takes years to produce, making it one of the most expensive perfume ingredients in the world. Perfumers go to great lengths to source the finest oud, pushing the boundaries of craftsmanship and creativity to create extraordinary scents.
Another mesmerizing compound that captivates perfumers is ambergris. This unusual ingredient is a secretion produced by sperm whales and is often referred to as "floating gold." After years of floating in the ocean, ambergris develops a unique scent that is both earthy and musky. Its rarity and the difficulties in sourcing it have made ambergris one of the most sought-after ingredients in the perfume industry. Perfumers use it sparingly, but even a small amount can significantly enhance the aroma and longevity of a fragrance, making it worth every penny.
Rose extract is another compound that perfumers consider a true marvel. Known as the "queen of flowers," roses have long been valued for their intoxicating scent. The extraction process for obtaining pure rose essence is both labor-intensive and time-consuming, requiring countless rose petals to produce a single drop of precious oil. Perfumers often use extracts from specific types of roses such as Rosa Damascena or Rosa Centifolia to create exquisite fragrances that evoke the beauty and elegance of these magnificent flowers. The rarity and painstaking process involved in acquiring pure rose extracts contribute to their extraordinary prices.
While the pursuit of extraordinary compounds is inherent in the art of perfumery, the extraordinary prices associated with some of these compounds can make these fragrances feel out of reach for many. However, for those who appreciate the craftsmanship, attention to detail, and the indescribable allure of these scents, no price is too steep to experience the extraordinary.
In conclusion, the world of perfumery is full of mesmerizing compounds that perfumers skillfully blend to create extraordinary fragrances. From the exotic and scarce oud to the extraordinary allure of ambergris and the timeless beauty of rose extract, these compounds are highly valued for their unique scents. While the prices of perfumes containing these compounds may seem exorbitant to some, for those who appreciate the artistry and craftsmanship, they are worth every penny. After all, the true magic of perfumery lies in capturing and bottling emotions and memories, and these mesmerizing compounds play an integral role in achieving that feat.