Stainless steel railings are becoming increasingly popular in car parking areas due to their functionality, durability, and elegant appearance. With their rot-proof nature and low maintenance requirements, stainless steel railings offer a practical and stylish solution for car park owners.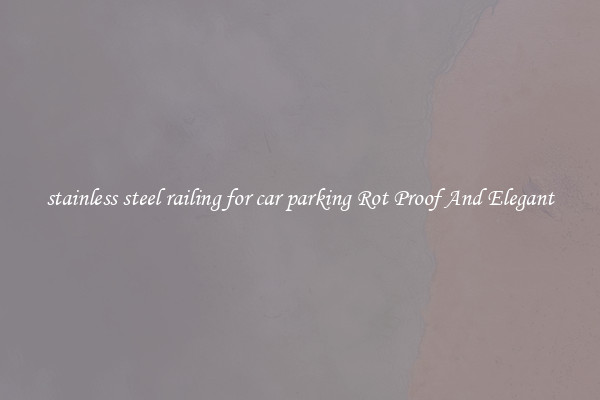 One of the primary advantages of stainless steel railings is their resistance to rot. Unlike other materials such as wood, which can deteriorate over time due to exposure to moisture and the elements, stainless steel is highly resistant to corrosion. This makes it an ideal choice for outdoor settings, particularly in areas where there may be high levels of humidity or rain.
Additionally, stainless steel railings require minimal maintenance. Unlike wooden railings that may need regular upkeep such as staining or painting, stainless steel railings can maintain their sleek appearance with minimal effort. They can be easily cleaned with mild detergent and water, removing any dirt, dust, or stains that may accumulate over time. This low maintenance requirement not only saves time but also reduces long-term costs associated with upkeep and replacement.
In terms of aesthetics, stainless steel railings are highly sought-after. With their sleek and modern design, they can enhance the overall look and feel of a car parking area. Stainless steel railings offer a contemporary and sophisticated touch, seamlessly blending into various architectural styles and surroundings. Whether your car park has a modern, industrial, or even traditional design, stainless steel railings can complement and enhance its visual appeal.
Furthermore, stainless steel railings offer strength and durability, making them a reliable safety measure in car parking areas. These railings provide a sturdy barrier that guides and protects vehicles and pedestrians, ensuring safety within the premises. With their high-impact resistance, stainless steel railings can withstand accidental bumps or collisions, minimizing damage and reducing liability risks.
Lastly, stainless steel railings are available in a variety of designs and finishes, allowing car park owners to customize their appearance to suit their specific preferences and requirements. From brushed or polished finishes to different styles and heights, there are numerous options available to create a unique and personalized look.
In conclusion, stainless steel railings are a popular choice for car parking areas due to their rot-proof nature, low maintenance requirements, elegant appearance, and high durability. The combination of functionality and aesthetics makes them a reliable and stylish addition to any car park. Whether you are looking to enhance safety, improve the overall visual appeal, or reduce long-term maintenance costs, stainless steel railings prove to be an excellent investment in the long run.